Finding an affordable wide angle lens for your DSLR can be exhausting, especially if you are looking for true, full frame lenses.  For instance, the Canon 14mm 2.8 goes for around $2,000!  I do not own this lens (I do own the Canon 35mm 1.4) but from what I have seen and the reviews I have come across, it is a fine lens and probably worth every penny if you are a professional looking for the top of the line equipment.  However, some photo enthusiasts do not have such high demands.  So what are the alternatives?
Samyang, also known and marketed as Rokinon and Bower, may be a great option.  At the time of this review, the 14mm 2.8 was selling for around $400.  You will lose the ability to Auto Focus (AF) but you will still be able to Manually Focus (MF).  I have not tested this lens myself, but I have done some extensive research and put together a bunch of links and reviews showing distortion, Vignetting, MTF (Resolution), CA (chromatic aberrations), and sample images.
One of the greatest downfalls of this lens is it's complex distortion which is not easy to correct in Photoshop.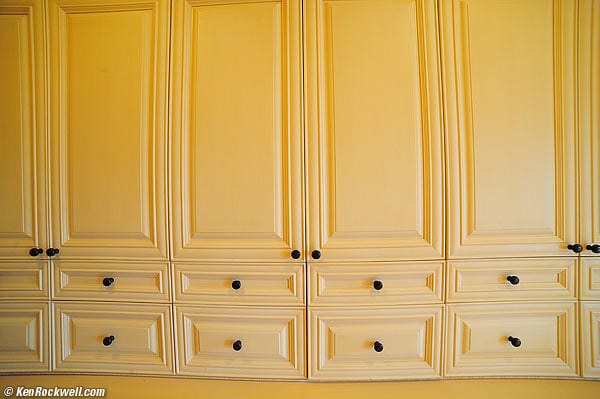 Here is another example:

This lens has such bad distortion, it should not be used for architecture unless it is just for personal use.  However, for landscapes, this lens could be o.k. considering it may be harder to detect the distortion characteristics.
Here is one of the best:
Photozone's
http://www.photozone.de/canon_eos_ff/532-samyang14f28eosff
Ken Rockwell's review
http://www.kenrockwell.com/tech/samyang/14mm-f28.htm
Markus Keinath does a nice job here;
http://www.4photos.de/test/Samyang-14mm-2.8-en.html
Lenstip Review
http://www.lenstip.com/239.1-Lens_review-Samyang_14_mm_f_2.8_ED_AS_IF_UMC_Introduction.html